Sports Injuries
Our Sports Medicine services from Georgia Spinal Health & Wellness include: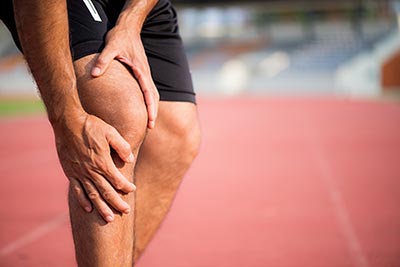 Core Stability Training
Home Exercise Programs
Heat Pack Therapy
Mechanical Traction
Hydrotherapy
With sports being such a huge part of the American lifestyle, it is crucial to have good sports medicine. For instance, sports medicine in Atlanta is designed specifically for athletes. This means specialized procedures, treatments, and medications are designed specific to injuries and other physical challenges that athletes experience. Whether playing high school baseball or being a professional football player, the fact is that sports medicine in Atlanta can improve injuries while improving performance.
A person who works with sports medicine goes through very specific education, becoming certified and licensed to perform treatment and therapy on a player-by-player basis. In most cases, the specialist is a primary care doctor or orthopedist who specializes in sports medicine. Although some specialists will have standalone clinics, most have a team of professionals, all working together.
For example, if you look at sports medicine, you would discover that the professional sports teams have specialists that include an entire team made up of a doctor, surgeon, trainer, therapist, coach, psychologist, and so on. If a player were to be injured or even need to reach a higher level of performance, the specialist would determine the best course of action.
Although sports medicine is nothing new, most people do not realize that it actually dates back to the ancient days or Rome and Greece. Then in 1928 for the St. Moritz Olympics, the first International Congress of Sports Medicine was formed. From that time forward, sports medicine became something commonly used for all types of athletes regardless of sport. In fact, when sports medicine was first used, the focus was not only on injury and pain, but also on teaching the athletes, as well as coaches and trainers, about hygiene, diet, and physical therapy.
Without doubt, sports medicine in Atlanta is cutting edge. Often seen as a form of preventive medicine, this arena is designed to reduce the risk of injury, along with treating a player after injury. There have been many different developments associated with sports medicine, one of the latest and most exciting being neuromuscular adaptation studies. When applied to a team of players, numerous studies have shown a significant reduction in injury. A more recent modality is the use of Hydrotherapy. Some of the benefits of hydrotherapy are:
loosening tense, tight muscles and encouraging relaxation
increasing the metabolic rate and digestion activity
boosting the immune system, allowing it to function more efficiently
improving the function of the internal organs by stimulating their blood supply
Obviously, using sports medicine as a preventative measure has a lot of benefits. For one thing, it ultimately saves the team money by not having to keep key players out of the game or draft new players for replacement. Reducing injury risk also improves interest in the team from a spectator's point of view. As people see their favorite team remaining strong, they get excited, which improves support and ticket sales.
One thing to remember about sports medicine and other states is that while it primarily focuses on college and professional athletes, there are many universities that also treat outside people. In other words, if an individual were to be involved in sports or activities simply for fun but who want to learn how to play without injury or perhaps be treated for injury, there are opportunities for these people to be seen. Today, sports medicine in Atlanta is offering some incredible solutions, changing the way in which people view and participate in sports of all kinds.
Contact Georgia Spinal Health & Wellness today to schedule an appointment and get on the road to recovery from your sports injury.