Personal Injury Care
Personal injury covers a large spectrum of injuries which normally require medical care. However, many personal injuries also result in an adverse impact on well-being. You will require a number of rehabilitation treatments and therapies, making it difficult to make all your important treatments.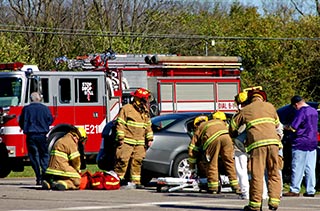 At Georgia Spinal Health & Wellness, we aim to provide our patients with as many, if not all, of the treatments they need at our clinic. Our patients have found that the Georgia Spinal Health & Wellness approach benefits them in a number of ways. By having most or all of your treatments at one of our clinics, you will have a single treatment plan, making your path to recovery that much faster.
One of the aspects of personal injury that is often neglected during medical treatment is the associated stress. Stress can stem from the circumstances of the accident. However, dealing with insurance or personal injury claims are also common causes of stress for our patients. At Georgia Spinal Health & Wellness, patients have access to all the specialized services and important documents they need to support them in making insurance and personal injury claims.
Personal and Emotional Injury
When you have suffered a personal injury which resulted in physical and emotional pain, Georgia Spinal Health & Wellness can provide you with all your essential treatments. We provide both medical and therapeutic treatments, designed to greatly benefit our patients in body and mind.
Assaults
Product Liability
Don't allow pain or emotional trauma from a personal injury to dictate how you live your life. Pursuing treatment for your personal injury will help you get your life back on track. Georgia Spinal Health & Wellness is here to support you during your recovery.
If you would like to know more about how we can help you come back from personal injury, contact Georgia Spinal Health & Wellness today.
Meet Our Personal Injury Specialist

Dr. Todd Surloff, D.C. – Personal Injury Specialist
Email: tsurloff@gmail.com
Dr. Todd Surloff has been specializing in the treatment and documentation of Personal Injury cases for over 16 years.
By focusing specifically on these mechanisms of injury (auto accidents, slip & falls, on the job injuries, etc.) he has developed many case specific treatment protocols yielding beneficial results for his patients and returning them to their normal activities of daily living.
Personal Injury patients of Georgia Spinal Health and Wellness benefit from his extensive knowledge of both the legal and medical process.
He understands the importance of maintaining, throughout their treatment plan, an open line of communication with the patient's attorney and other medical providers. He has established a large network of MRI facilities, Orthopedists, Pain Management Specialists, etc. to help provide the most comprehensive quality medical care available to the patient along with the proper documentation necessary to help build their cases.
Check also our subpages
Read Our Patient Testimonials
Georgia Spinal Health & Wellness
They treated me after two different injuries and I now have full range of motion, am pain-free, and feel like I'm good as new again. I'd highly recommend Dr. Surloff and Dr. Hochman – they're amazing at what they do and they really care about helping you get better. Plus they're more than just chiropractic – physical therapy, massage, IDD therapy and more.

David Wright
In all my years of going to a Dr. I've never had someone with better bed side manners, personable, friendly and genuinely interested in your health care. His staff are the best, clean and punctual.
If you're looking for a professional that has a heart, then go to Georgia Spinal and "stand up straight" again!.

Jake Starkey
I have had IDD, chiropractic, massage and physical therapy with them over the last few years and have nothing but good things to say about this practice. Everyone there is super friendly and you can tell that Dr. Hochman is genuinely concerned for your wellness

Michael Collier
Address
2021 North Druid Hills Road
Suite 100
Atlanta, Georgia 30329
Office Hours
Mon: 9am-2pm / 3pm-7pm
Tue: 9am-3pm
Wed: 9am-2pm / 3pm-7pm
Thu: 9am-3pm
Fri: Closed
Sat: 9am-12pm