Georgia Spinal Health and Wellness Locations
Our main office is located in the Buckhead area of Atlanta at:
2021 North Druid Hills Road
Suite 100
Atlanta, Georgia 30329
Phone: (404) 325-0080
Fax: (404) 325-0085
For questions about our services, please email Dr. Hochman at drhoc@georgaspinal.com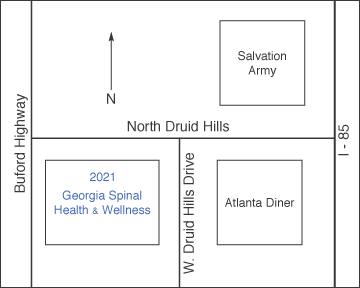 PLEASE NOTE: For scheduling & directions to our Dalton, Lilburn or Fort Oglethorpe Offices, please call 404-325-0080.

Our satellite offices are located in:
Lilburn
3035 Five Forks Trickum Road, Suite 7
Lilburn, Georgia 30047
Fort Oglethorpe
955 Battlefield Pkwy
Fort Oglethorpe, Georgia 30742
Dalton
1513 W. Walnut Avenue, Suite 3
Dalton, Georgia 30720
Check also our subpages
Read Our Patient Testimonials
Georgia Spinal Health & Wellness
They treated me after two different injuries and I now have full range of motion, am pain-free, and feel like I'm good as new again. I'd highly recommend Dr. Surloff and Dr. Hochman – they're amazing at what they do and they really care about helping you get better. Plus they're more than just chiropractic – physical therapy, massage, IDD therapy and more.

David Wright
In all my years of going to a Dr. I've never had someone with better bed side manners, personable, friendly and genuinely interested in your health care. His staff are the best, clean and punctual.
If you're looking for a professional that has a heart, then go to Georgia Spinal and "stand up straight" again!.

Jake Starkey
I have had IDD, chiropractic, massage and physical therapy with them over the last few years and have nothing but good things to say about this practice. Everyone there is super friendly and you can tell that Dr. Hochman is genuinely concerned for your wellness

Michael Collier
Address
2021 North Druid Hills Road
Suite 100
Atlanta, Georgia 30329
Office Hours
Mon: 9am-2pm / 3pm-7pm
Tue: 9am-3pm
Wed: 9am-2pm / 3pm-7pm
Thu: 12pm-6pm
Fri: Closed
Sat: 9am-12pm