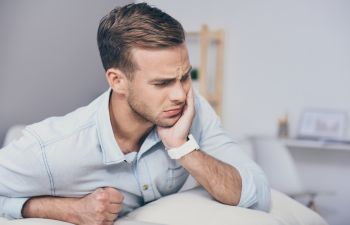 While at yoga, have you ever had your instructor tell you to "drop your jaw?" What did he mean? And why is dropping your jaw even a thing discussed in yoga? Did you know that many people actually hold large amounts of tension in the jaw region? The simple task of releasing your jaw and allowing your lower teeth to drop down away from your uppers can powerfully being your jaw relaxation process.
This tension usually manifests itself through the clenching of your jaw. Jaw clenching is a common sigh of stress and anxiety. If you're clenching your jaw, you often are unaware of this until you begin to notice pain.  You may even clench your jaw at night while you're sleeping. To prevent jaw clenching at night, you can begin by using a night guard for grinding prevention and relief for persistent anxiety.
Jaw clenching can also be a result of TMJ. TMJ is a condition that can cause you stiffness and pain in your jaw. It is not always related to stress, tension or anxiety. It can be a result of weakness in the muscles surrounding your jaw, a misaligned jaw or other issues.
If you suffer from TMJ, relaxing and dropping your jaw may be very painful and you will need further techniques to give you relief. Georgia Spinal Health & Wellness offers massage therapy as an effective treatment for TMJ. The methods our expert therapists use have been employed for thousands of years and gathered from around the world.
For expert massage therapists in Atlanta, contact Georgia Spinal Health & Wellness today. Our treatments are ideal for TMJ, headaches and all your other aches and pains.
Posted on behalf of Georgia Spinal Health & Wellness