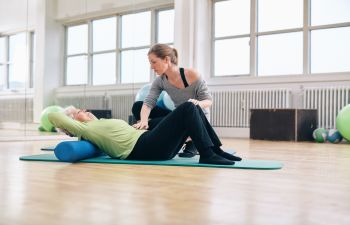 The Winter Olympics in PyeongChang had us all captivated with the amazing feats of bravery, athleticism and amazingness! All of us sat there watching, with our mouths wide open exclaiming, "Whoa, how'd she just do that in the air?" Did you see American ski racer, Mikaela Shiffrin's medal winning performances? How does she pull that off?
In addition to the jaw dropping feats, there were also the ones that made us want to look away because it was so hard to watch the athlete suffering from injury. The Austrian snowboarder Markus Schairer had several woes. First he suffered an injury to his elbow and then the horrific accident during the end of his run in the men's snowboardcross event. He lost control while mid-air and crash-landed on his backside. Somehow, after being down and unable to move, he strapped on his board and got to his feet to cross the finish line. A woe turned to a mega Whoa!
The Olympic athletes are inspiring. Most of us only dream of being able to pull off the stunts and times that they do. In an effort to be great in sports as well, you may suffer from a sports related injury. If your injury requires that you have surgery, Georgia Spinal Health & Wellness offers pre-and post-surgical rehabilitation for you.
Georgia Spinal Health & Wellness pre-surgical rehabilitation can improve health and wellness and even get you to a point where your surgery is a viable option. We also offer post-surgical rehabilitation to get you back to feeling healthy and strong as possible.
Contact Georgia Spinal Health & Wellness today!
Posted on behalf of Georgia Spinal Health & Wellness