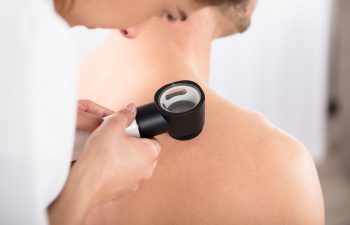 At Georgia Spinal Health and Wellness we treat patients who are having frequent or severe eczema flare-ups. We provide you with a well-rounded approach that gives you wellness training and a close monitoring of your flare-ups to help eliminate the triggers that are causing them. You can read more about eczema here. According to the National Eczema Association, eczema is the name of a group of conditions that can cause your skin to become red, itchy and inflamed.
Due to the fact that eczema is a skin condition, it can often be confused for dry skin. However, eczema and dry skin are two very different conditions. Here's how:
Dry Skin 
Dry skin is isolated to the outer layers of your skin due to its inability to maintain normal moisture levels. Dry skin is typically temporary, however some people are more susceptible to it than others. Dry skin manifests itself in dry, rough, red patches on your skin. At times they may itch or feel tight and stretched. Normal locations for dry skin occur on your arms, hands, face, lower legs, abdomen, ankles and the soles of your feet. Moisturizing cream is usually a sufficient solution to your dry skin.
Eczema
Eczema is not typically temporary, and the cause is often unknown. However, stress is usually associated with it. It can also be linked to a mild to moderate autoimmune disorder that makes your skin flare-up with an allergic reaction. It can be chronic. It is extremely itchy and can cause your skin to crack and bleed. It is common for it to appear on your face, back of your knees, feet, hands and wrists. You skin will have a very dry, thickened, red and sometimes scaly appearance. It can even cause fluid-filled blisters and red rashes.
Our doctors at Georgia Spinal Health and Wellness will help you determine if you have dry skin or eczema. We will also help discover what may be triggering your flare-ups. We offer effective eczema treatment that will help you feel comfortable in your own skin again. Book your appointment with us today.
Posted on behalf of Georgia Spinal Health & Wellness