Cryotherapy Treatment
Cryotherapy is available to Personal Injury patients on a lien. Please call our office for details.
At Georgia Spinal Health & Wellness, we passionately pursue the latest non-surgical treatments that are proven to improve overall wellness. To this end, we are excited to offer cryotherapy treatments as part of our unique integrative approach to physical health and well-being. In a non-invasive three-minute session, cryotherapy can promote natural healing within the body and provide numerous benefits in terms of health and aesthetics.
Whole body cryotherapy is not new to the medical field. It was used in the 1970's to treat arthritis and manage pain. However, cryotherapy is now highly sought-after in the realm of wellness and fitness. Both doctors and professional athletes recommend cryotherapy for its proven ability to boost the immune system, reduce inflammation, eliminate toxins, lower stress levels and even rejuvenate the skin. Cryotherapy is used to treat a full menu of concerns, from weight loss and cellulite reduction to sports performance, surgery recovery and chronic fatigue.
Whole body cryotherapy consists of a painless 3-minute treatment session in which the body is brought into a chamber (or cryosauna) and exposed to nitrogen vapors and temperatures below -200 degrees. At this temperature, the body's natural healing powers are instantly activated for improvements to the circulatory system, skin, metabolic system, muscles and much more.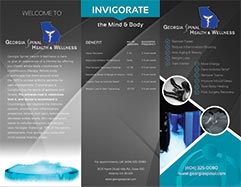 Download Our Cryotherapy Brochure
What are the Health Benefits of Cryotherapy?
The natural health benefits from cryotherapy treatments are profound. Cryotherapy improves sleep, muscle soreness, metabolism, tissue healing, inflammation, chronic pain, blood circulation and so much more.
At Georgia Spinal Health & Wellness, we commonly treat patients who need help in the following:
Recovery From Injury, Surgery and Sports Training – Whether you are a serious athlete looking to increase your performance or someone who has suffered an acute injury, cryotherapy stimulates your body's natural ability to recover faster. Time in the cryosauna can minimize inflammation, reduces pain and boosts blood flow to the areas that need repair.
Weight Loss – Cryotherapy has been proven to aid in weight loss. Not only does cryotherapy increase your metabolism and help you burn more calories, but it can also improve fatigue, reduce cellulite and release endorphins.
Rejuvenation and Anti-aging – Many patients turn to cryotherapy for its revitalizing powers. Cryotherapy can increase collagen and tighten the skin to create a smoother, more toned and younger looking appearance. It can also help to remove toxins from the body and promote better blood flow for an instant feeling of rejuvenation and wellness.
To learn more about how Cryotherapy can help you, contact the professionals at Georgia Spinal Health & Wellness today. We are proud to be Atlanta-area leaders in cryotherapy treatment and other advanced services for improved physical health and well-being.
Read Our Patient Testimonials
Georgia Spinal Health & Wellness
They treated me after two different injuries and I now have full range of motion, am pain-free, and feel like I'm good as new again. I'd highly recommend Dr. Surloff and Dr. Hochman – they're amazing at what they do and they really care about helping you get better. Plus they're more than just chiropractic – physical therapy, massage, IDD therapy and more.

David Wright
In all my years of going to a Dr. I've never had someone with better bed side manners, personable, friendly and genuinely interested in your health care. His staff are the best, clean and punctual.
If you're looking for a professional that has a heart, then go to Georgia Spinal and "stand up straight" again!.

Jake Starkey
I have had IDD, chiropractic, massage and physical therapy with them over the last few years and have nothing but good things to say about this practice. Everyone there is super friendly and you can tell that Dr. Hochman is genuinely concerned for your wellness

Michael Collier
Address
2021 North Druid Hills Road
Suite 100
Atlanta, Georgia 30329
Office Hours
Mon: 9am-2pm / 3pm-7pm
Tue: 9am-3pm
Wed: 9am-2pm / 3pm-7pm
Thu: 12pm-6pm
Fri: Closed
Sat: 9am-12pm